4 October 2019 | Chrismont Wines
BEST Food Award – three years running!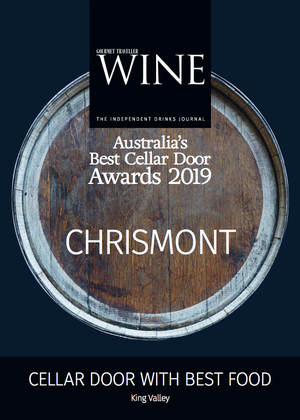 Each year Gourmet Traveller WINE puts the call out to the its wine writers to visit the nation's cellar doors and determine the star cellar door, best tasting experiences and who's serving the finest food in Australia's diverse and evolving wine scene.
For 2019, Chrismont is thrilled to be named the GTWine "Cellar Door with BEST Food for the King Valley", for the third year running!
Congratulations to all of the talented and dedicated members of the Chrismont Restaurant kitchen and floor, who make endorsements such as this possible.
And a big congrats to all of our fellow Australian wine region award winners. You're impressive company to be in!
Comments
Commenting has been turned off.